How to apply for JARL "Contest commemorative plaque"
You can apply for a commemorative plaque of the contest participation.
Please apply for the plaque with the application fee and the document that
can confirm the desired endorsement once the contest results have announced.

1. Requirements of the commemorative plaque
• The endorsement can be confirmed in contest results announcement on the JARL Web.
• The endorsement can include category, prize, position or simply participation commemoration.
( example:
ALL ASIAN DX CONTEST - Phone participation commemoration ,
ALL ASIAN DX CONTEST - CW Winning five consecutive years in the category of "Single Operator" )
• The plaque can be for the applicant itself or for a participant with particular achievement as the Donor plaque.


2. Application acceptance
Any application can only accepted after the announcement of contest results.

3. Fees
• PAYPAL

Overseas

10,000JPY
(US$:equivalent to 10,000JPY)
❉ Request
If you use the PAYPAL, please contact by e-mail to JARL.

• Bank transfer
Our bank account is as given below;
SWIFT Code: BOTKJPJT
Bank Name: The Bank of Tokyo-Mitsubishi UFJ, Ltd.
Branch Name: Komagome Branch (#061)
Address: 2-3-1 Komagome, Toshima-ku, Tokyo 170-0003
Account Name: JAPAN AMATEUR RADIO LEAGUE
Account Number: 9003391
Reason for remittance: Certificate fee( your call sign )

〇Please contact by e-mail to JARL when you want to transfer from bank.
If you use the payment by bank transfer, you are also requested to pay the bank charge
at the recipient bank along with the plaque fee.


4. Application
Please submit your application with the required fee.
Do not forget the evidence which can certify the desired endorsement.

∗Application form: PDF MS-WORD

〇Send application to:
Membership Section
JARL
Otsuka HT Bldg 43-1, Minamiotsuka 3-chome, Toshima, Tokyo 170-8073
JAPAN


♦ Plaque sample ♦
Applicant Donor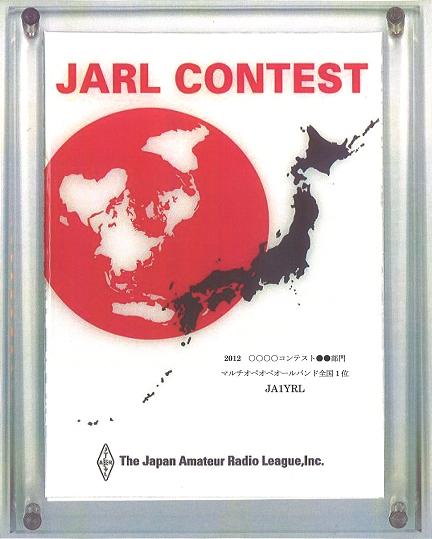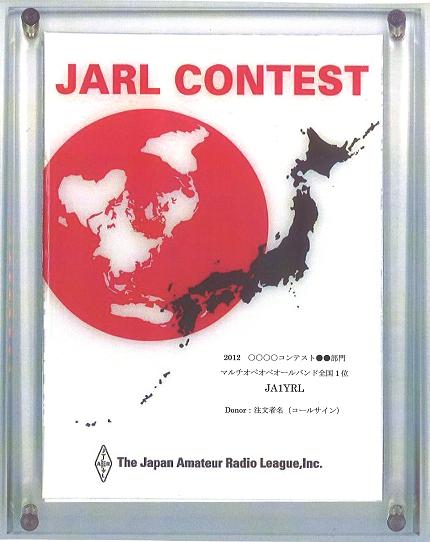 Size 18cm × 24cm × 1.4cm


∗Contest commemorative plaque will be shipped twice a year.
Depending on the time of the application, the plaque can be sent out as late as six months later.
Please accept this possible delay.

---


The content of this page was modified on November 6, 2013
| HOME | English MENU | BACK | TOP |