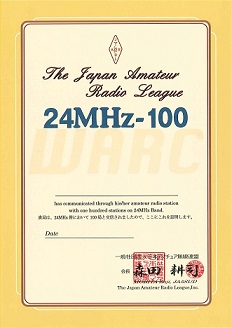 24 MHz - 100

The 24 MHz-100 Award is available to all amateurs (SWLs) who submit a list of QSL cards that show two-way communications(contacts) with the different 100 amateur stations on 24 MHz band.

Special rules:
01: Applicants must have all QSL cards concerned, but no GCR needed.
02: A list of QSL cards should be indicated in alphabetical order by prefix followed by suffix.
03: Contacts may be made from any location.
04: The fee is 2,000 yen(16 IRCs) for non-JARL members.