After a hiatus, Fuji-Oscar 29 is back on the air
The Japan Amateur Radio League's satellite control station received reports from amateurs in many parts of the world that they lost signals from amateur satellite Fuji-OSCAR 29 (FO-29) after May 31, 2003.
The FO-29 command team staff carefully sent command signals to turn back on the satellite's transmitter. Finally, on June 16 at 14:40 (JST), they succeeded.
The team is presently analyzing data and is seeking reception reports. Those who are able to hear FO-29, are asked to report the time (UTC), location and signal strength to:
lab@jarl.or.jp
Use of the analog transponder is not restricted at present
Analog Transponder (Mode JA)
Uplink: 145.900 - 146.000 MHz
Downlink: 435.800 - 435.900 MHz
CW telemetry - 435.795MHz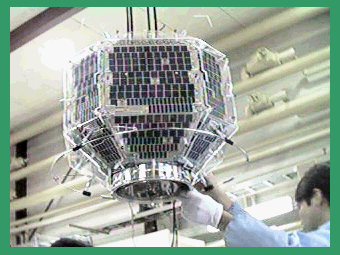 FO-29 was launched on August 17, 1996 from the Tanegashima Space Center, National Space Development Agency of Japan (NASDA) on an H-2 rocket.