The JARL NEWS
Vol. 15, No. 6 December 2002
---
JARL Celebrates Its 75th Anniversary
(50th Anniversary of the Resumption of Amateur Radio)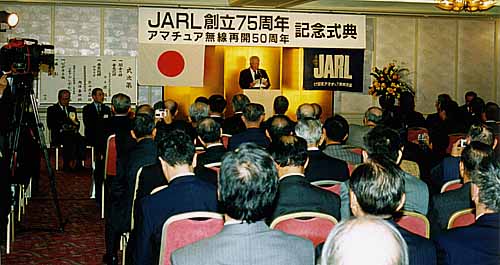 On November 15, JARL members gathered from various parts of Japan to celebrate the League's 75th anniversary of its establishment. Invited to the party, which was held at the Hotel Grand Palace in central Tokyo, were more than 400 guests and honored by the presence of Mr. Toranosuke Katayama, Minister for Public Management, Home Affairs, Posts and Telecommunications, Mr. Yoshio Utsumi, Secretary-General of the International Telecommunication Union, Mr. Richard L. Baldwin, W1RU, IARU President Emeritus, Mr. Jim Haynie, W5JBP, President, American Radio Relay League, Ms. Mayuree Sachati, HS1YL, President, Radio Amateur Society of Thailand, and Mr. Young-Soon Park, HL1IFM, Director of International Amateur Radio Union Region 3.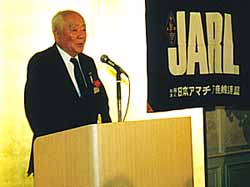 The ceremony began with an address by Mr. Shozo Hara, JA1AN, President of JARL who warmly welcomed guests and went on to say that "Looking back, during Japan's Taisho Era, people with pioneering spirit paved the way for amateur radio. More than three quarters of a century have passed since then. Technology using radio frequencies has continued to make progress, and we feel proud that many amateur radio operators have been working as professional engineers and have contributed to the constant development of radio frequency technology. During World War II, amateur radio operations were suspended, and it took eleven years before amateur radio operations here could resume. 50 years have passed since then. I am sure people with experiences during that period must be filled with deep emotion today. In recent years, amateur radio has seen technology diversify and the hobby has globalized. Rapid progress has been seen in the wide-spread use of personal communication media. Amateur radio is required to take actions based on the wide spread use of personal communication media. All quarters concerned must join hands to fascinate as many people as possible with amateur radio activities suited to local interests. I sincerely hope that amateur radio will help contribute to growing friendship among countries, science education for boys and girls, and to make social contributions when emergencies arise. With the 75th anniversary of the establishment of JARL and the 50th anniversary of the resumption of amateur radio, we pledge to renew our efforts for amateur radio development."

Mr. Toranosuke Katayama
Minister, MPHPT

Mr. Yoshio Utsumi
Secretary-General, ITU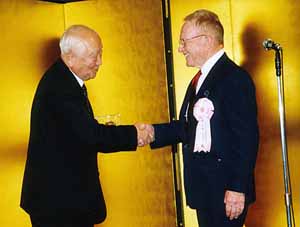 Mr. Richard Baldwin, W1RU
IARU President Emeritus and Mr. Hara, JA1AN (Left)
Mr. Jim Haynie
W5JBP
President, ARRL

Ms. Mayuree Sachati HS1YL
President, RAST

Mr. Young-Soon Park, HL1IFM
Director, IARU Reg.3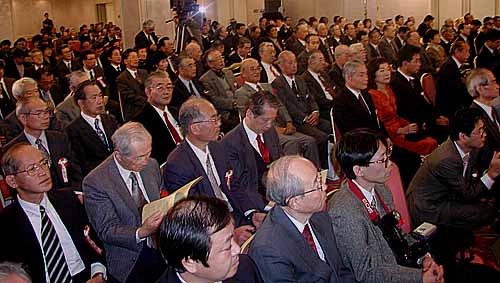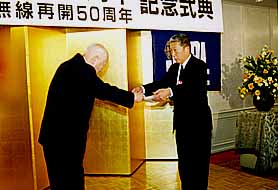 A video film introducing the history of Japanese amateur radio and JARL was shown, and letters of appreciation then handed out to outstanding individuals and clubs for their earnest contribution to amateur radio.

After the ceremony, a festive celebration party took place. Ms. Yuko Obuchi, a member of the House of Representatives, a daughter of the late Mr. Keizo Obuchi, JI1KIT, former Prime Minister of Japan, and a strong supporter of amateur radio, Ms. Kiyoko Ono, 7M3URU, a member of the House of Councilors, personally participated the party in spite of their extremely tight schedule and enjoyed talking on about amateur radio with many hams at the party.



---
Season's Greetings and Best Wishes for 2003!!
---