The JARL NEWS
Vol. 15, No. 5; September 2002
---
28,000 Visited JARL's Summer Event
The Amateur Radio Festival 2002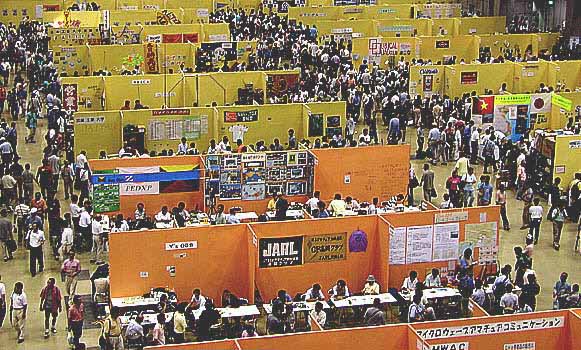 JARL's big annual summer event,the Amateur Radio Festival 2002 (Ham Fair 2002) was held at the Tokyo Big Sight on August 24 and 25. It is recognized to be the largest amateur radio event in Japan with many participants coming from all over Japan and many overseas countries. This year, 172 amateur radio clubs demonstrated their activities in some form or 38 suppliers exhibited their radio commodities. Ham Fair aims at introducing amateur radio activities to the general public as well as promoting the exchange of information and friendship among radio amateurs.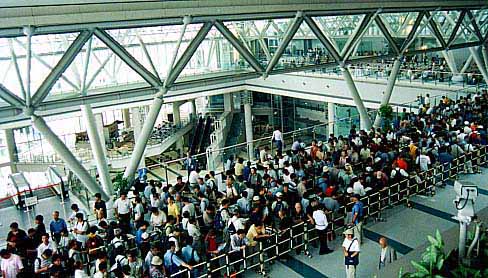 This year, Ham Fair received official support from the Ministry of Public Management, Home Affairs, Posts and Telecommunications as well as the Ministry of Education, Culture, Sports, Science and Technology, the Tokyo Metropolitan Authorities, the Nihon Hoso Kyokai (NHK), the Yomiuri Shinbun, the Tokyo Metropolitan Television Broadcasting, the Japan Radio Association, the Japan Amateur Radio Development Association (JARD), the Japan Amateur Radio Industries Association (JAIA), Tokyo Convention & Visitors Bureau, and many others.
---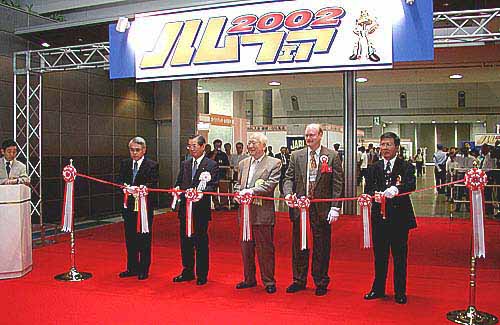 An opening ceremony, from left to right;
Mr. Takenobu Kaieda, JH1HNH, Chairman of Ham Fair Executive Committee
Mr. Tokuzo Inoue, President of Japan Amateur Radio Industries Association
Mr. Shozo Hara, JA1AN, President of JARL
Mr. David Patton, NT1N, ARRL Special Assistant to the Executive Vice President
and Mr. Nguyen Bac Ai, XV2A, President, Viet Nam Amateur Radio Club.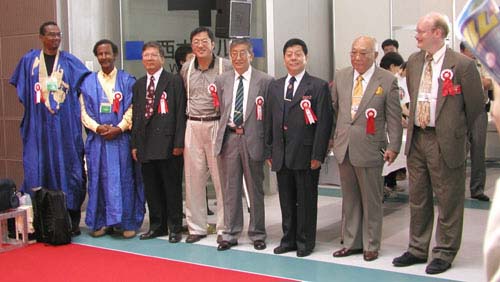 Guests coming from overseas include:
Mr. Mohamed Ould Ahmed Slama from the Islamic Republic of Mauritania
Mr. Mohamed Ould Boulla, 5T5MB from the Islamic Republic of Mauritania
Dr. Yong Surk Lee, HL1FB, Director, KARL
Mr. Yan Pidong, CRSA
Mr. Chen Ping, BA1HAM, Secretary General, CRSA
and others.
---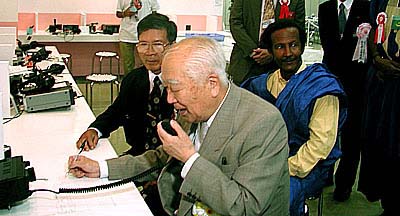 The special commemorative station 8N1HAM was in active operation.
More than 300 radio operators communicated with roughly 9,000
amateur radio stations in and out of Japan. JA1AN enjoyed the first
QSO with foreign guests right after opening ceremony.







"CQ CQ CQ
This is 8N1HAM,
the special commemorative
station for Ham Fair 2002!!
Tokyo, Japan!!"
Admission was 1,500 yen,
good for 2 days.
Kids were free of charge.

8N1HAM became a very
popular spot where long queues
were formed every day!!
---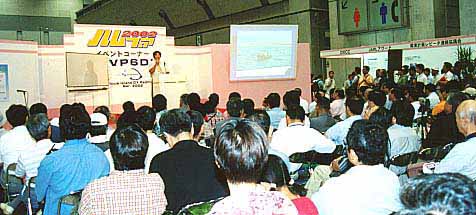 A continuous series of lectures,
including JA1BK and JF1IST's
"VP6DI DX Pedition Story,"
7M3TJZ's "Present Situation of
ARISS School Contact,"
NT1N and JA1AYC's
"The ARRL and Amateur Radio
in the 21st Century,"
and many other kinds, were given
at the "Event Corner"
and needless to say, gathered
so many enthusiastic listeners!!

---
| | |
| --- | --- |
| | All work submitted for the "Home-brew Equipment Contest" and the "Picture Drawing Contest" were prominently on display, and at the commendation ceremony, the Ministry of Public Management, Home Affairs, Posts and Telecommunications Awards were presented to the winners. |
| Ms. Kiyoko Ono, 7M3URU, a member of the House of Councilors and a strong supporter of amateur radio, personally visited the Ham Fair, in spite of her extremely tight schedule, and gave words of praise to the winners. | |
---
| | | |
| --- | --- | --- |
| NT1N with JA1DM, JARL DXCC Field Representative | | |
Mr. David Patton, NT1N, traveled to Japan to perform services with JARL DXCC Field Representatives at "DXCC Desk"which was greatly appreciated by the large number of Japanese DXers.
---
Displaying tempting array of various new
and sophisticated equipment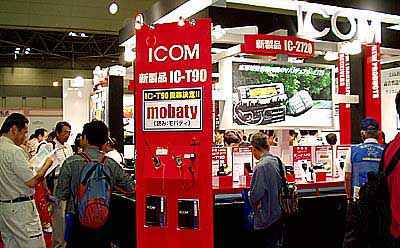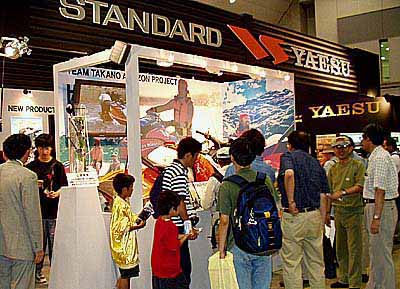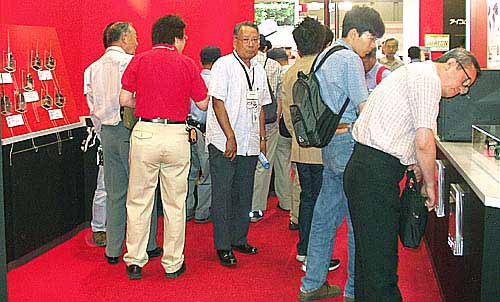 ---
Visitors enjoyed many events
such as: "Giant Flea Market,"
"Variety of JARL member services"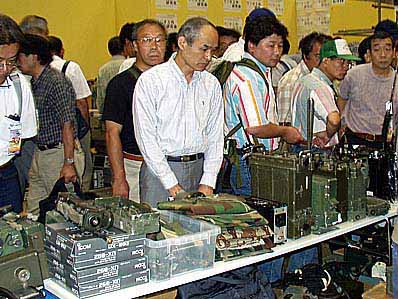 | | | |
| --- | --- | --- |
| | | |
The plan for next year is to hold the Ham Fair for 2 days
from August 23rd to 24th, 2003 in Tokyo Big Sight again!!


See you again at the Ham Fair 2003!!