The JARL NEWS
Vol. 14, No. 2; September 2001
---
35,000 Attended
Ham Fair 2001 in Yokohama
The Amateur Radio Festival (Ham Fair) which is said to be as grand as "Hamvention" in the U.S.A. or "Ham Radio" in Germany, took place in Yokohama this year!!
Ham Fair, a big annual summer event, was held at the Pacifico Yokohama in Yokohama, and ran from Friday, August 31 through Sunday, September 2. It aims at introducing amateur radio activities to the general public as well as promoting the exchange of information and friendship among radio amateurs.

This year, Ham Fair received support from the Ministry of Public Management, Home Affairs, Posts and Telecommunications as well as the Ministry of Education, Culture, Sports, Science and Technology, Kanagawa Prefecture, Yokohama City, the Tokyo Metropolitan Authorities, the Nihon Hoso Kyokai (NHK), the Television Kanagawa, the Yomiuri Shinbun, the Kanagawa Shinbun, the Japan Radio Association, the Japan Amateur Radio Development Association, the Japan Amateur Radio Industries Association (JAIA), Yokohama Convention & Visitors Bureau, and many others.



Below are some highlights.
---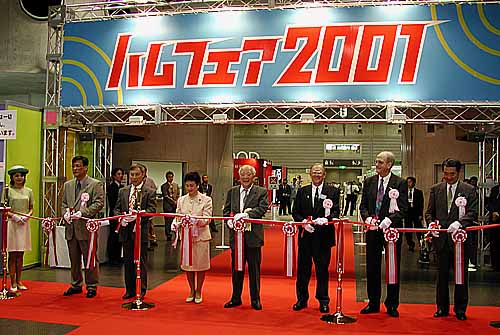 An opening ceremony, from left to right; Mr.Chung Kook-Hyun, HL1AUG, President of KARL, Mr. Wang Xinmin, BA1OK, Secretary General of CRSA, Ms Kiyoko Ono, 7M3URU, a member of the House of Councilors, Japan, Mr. Shozo Hara, JA1AN, President of JARL, Mr. David Wardlaw, VK3ADW, Vice President of IARU, Mr. Fred Johnson, ZL2AMJ, Chairman of IARU Region 3 and Mr. Hiroshi Nakano, President of JAIA.
---

Guests coming from overseas were: Mr. Peter Naish, VK2BPN, Director of IARU Reg.3, Mr. Young-Soon Park, HL1IFM, Director of IARU Reg.3, Mr. Yoshiji Sekido, JJlOEY, Director of IARU Reg.3, Mr. K.C.Selvadurai, 9V1UV, Director of IARU Reg.3, Mr. Tom Cristian, VP6TC, President of Pitcairn Island Amateur Radio Association, Mr. Martti Laine, OH2BH from Finland, Mr. Mohamed Ould Boulla from the Islamic Republic of Mauritania, students from China and many more!!
---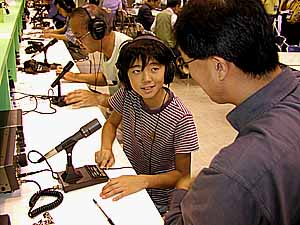 Visitors enjoyed many events such as: "Giant Flea Market", "Special Commemorative Station 8J1HAM", "Variety of JARL member services" and not to be forgotten was "Home Brew Equipment Contest" and "Drawing Picture Contest"( good works were awarded by the Minister of Public Management, Home Affairs, Posts and Telecommunications Japan !!)
---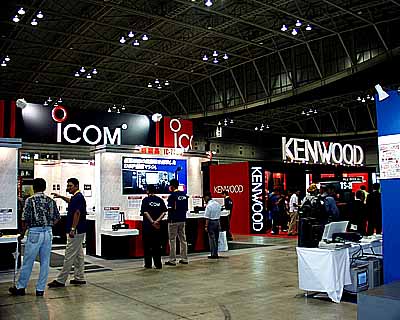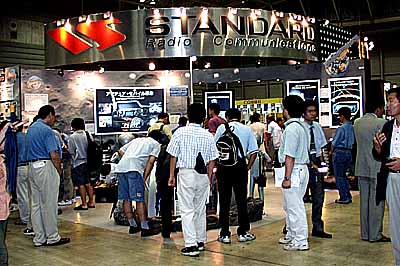 Displaying tempting array of various new and sophisticated equipment.
---
The total number of visitors during those three days was more than 35,000!!

Astonishing news was that 370,000 QSL cards (weighing 1,100kgs!!) were brought into the hall.
| | | |
| --- | --- | --- |
| 181 amateur radio clubs demonstrated their activities in some form or 45 suppliers exhibited their radio commodities at different places in the hall. | | |
| | | |
---
| | | |
| --- | --- | --- |
| | | Mr. David Patton, NT1N, ARRL Special Assistant to the Executive Vice President, who, this year traveled to Japan, performed various services with JARL DXCC Field Representatives at a booth named "DXCC Desk." This booth became a very popular spot where long queues were formed daily!! |
---
The plan for next year is to hold the Ham Fair for 2 days
from August 24th to 25th 2002 in Tokyo!!