Ham Fair 2001 Coming Up!!
JARL's largest and most popular summer event "Amateur Radio Festival," better known as "Ham Fair," will be held for 3 days from Friday, August 31st through Sunday, September 2nd at the same site as last year,
"the Pacific Convention Plaza Yokohama."
It receives support from the Ministry of Public Management, Home Affairs, Posts and Telecommunications as well as the Ministry of Education, Culture, Sports, Science and Technology and many other organizations.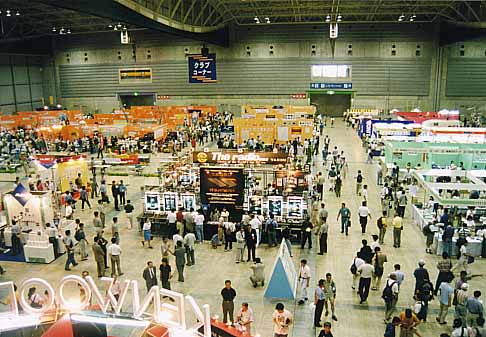 Ham Fair will be held in a 10,000 square meter column-free exhibition hall.
Wide Range of Exhibits
It boasts of a wide range of exhibits, for instance, all kinds of high-tech exhibits of amateur radio equipment, "Giant Flea Market," "JARL Work Shop" which adults as well as kids can enjoy assembling kits, "Home Brew Equipment Contest" and "Drawing Contest" which good works will be awarded by the Minister of MPHPT. In addition, ARRL Special Assistant to the Executive Vice President Mr. Dave Patton, NT1N, will travel to Japan to perform various services at the DXCC Corner.
Doors will be open from 10 o'clock in the morning to 5 in the evening. Admission is 1,500 yen, good for all 3 days. Students up to middle-high school are free of charge. For your access information, please refer to:
Yokohama Convention & Visitors Bureau
39,000 visited last year
and we hope more visitors will come this year!!